German Translation of Edimax Instructions
Seneye Products > Seneye Web Server (SWS) > SWS (Seneye Web Server) Instructions (English) > Edimax Wi-Fi Instructions > German Translation of Edimax Instructions
Wie Sie das Edimax Wi-fi Modul zurücksetzen
Wi-Fi : Edimax N300 Universal Wi-Fi Extender
Anleitung
Bevor Sie starten:
Falls Sie den SWS noch nicht zurückgesetzt haben, tun Sie dies bitte bevor Sie das Edimax zurücksetzen.
Verbinden Sie nichts mit dem Edimax Eingang während des Zurücksetzens, es würde den entscheidenen Schritt verhindern.
Bitte haben Sie ihr Wi-fi Passwort zur Hand.
1) Stecken Sie das Edimax in eine Steckdose mit nichts am Ethernet Eingang angeschloßen. Drücken und halten Sie den WPS Knopf für über 30 Sekunden bis das Power Licht anfängt zu blinkt.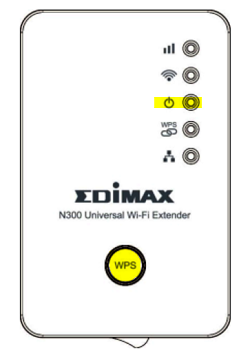 2) Gehen Sie auf ihrem Handy oder PC in Ihre Wi-fi Netzwerk Einstellungen. Verbinden Sie sich mit dem Netzwerk mit Namen "EdimaxEXT.Setup XX". Falls die Option sich mit dem Edimax Netzwerk nicht angezeigt wird wiederholen Sie den 1. Schritt.
3) Öffnen Sie Ihren Internet Browser und geben Sie "edimaxext.setup/" in die Addressleiste ein (nicht in die Suchleiste). Das wird Sie auf Einstellungsseite bringen.
4) Klicken Sie auf das Get Started Feld in blau.
5) Wählen Sie den bridge mode, welche die mittlere Option ist.
6) Wählen Sie den Router mit dem Sie sich verbinden möchten.
7) Geben Sie das Passwort für ihr Wi-fi Netzwerk ein und klicken Sie next. Beachten Sie Groß-/ Kleinschreibung.
Connection Test wird ausgeführt.
Falls Sie das Passwort falsch eingegeben haben werden Sie dieses Bild erhalten - NICHT BESTÄTIGEN - gehen Sie zurück und geben Sie das Passwort erneut ein.
8) Wenn das Zurücksetzen erfolgreich war wird es wie unten abgebildet mit einem grünen Hacken aussehen. Sie können nun auf apply klicken.
Sie werden das Congratulations Bild sehen.
Nun können Sie die Verbindung des Seneye Web Servers zum Router trennen und und es mit dem Edimax verbinden, wie es unten auf den zwei Bildern gezeigt wird.
The full user manual for the Edimax EW-7438RPn V2 is available here.