Attaching multiple seneye devices to your account
Table of contents
[MISSING: System.API.no-headers]
You can use mutiple seneyes devices on the same PC. Once the SCA is installed a new device can be added by simply plugging in to a spare USB port on the PC. You will be asked to name each new seneye monitoring device added, we suggest you give it a logical name for the pond or aquarium you are monitoring. The SCA image below has two devices directly attached to it as there names are in green, the results shown are for the device shown in bold green. You can click on another named device to view its details and results if the device is connected locally and shown in green.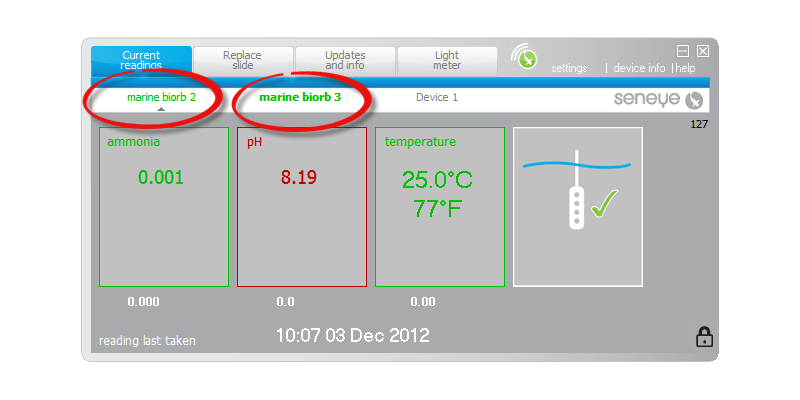 If a device is reqistered to that seneye.me account but not directly attached it will be shown as grey like below and no results will be shown. If your device is directly connected to the PC but not showing in green or not being asked to be named please click here.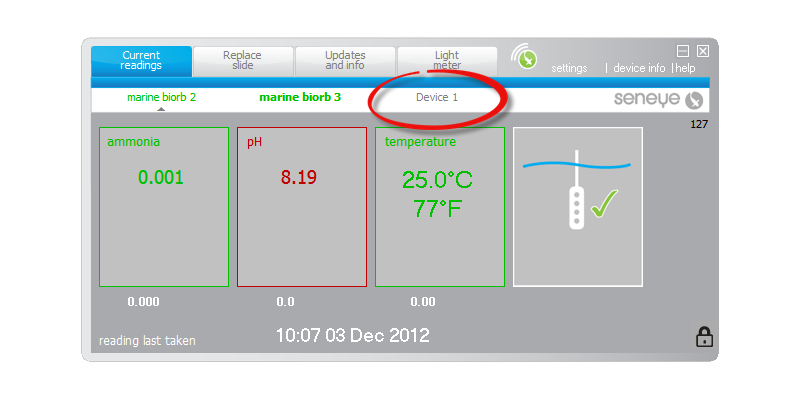 Each device added will also create a new tab on your personal seneye.me dashboard. Any issues please contact us.
Use the same registered email address in an SCA program on any PC anywhere in the world and it will link to that seneye device to your seneye.me account and dashboard in the seneye cloud.
This means all your monitoring and control for email and sms alerts can be set in one place.